Getting Support¶
Fed4FIRE+ provides the following support channels:
Federation monitoring¶
At https://fedmon.fed4fire.eu you can verify if a particular testbed is fully operational or not.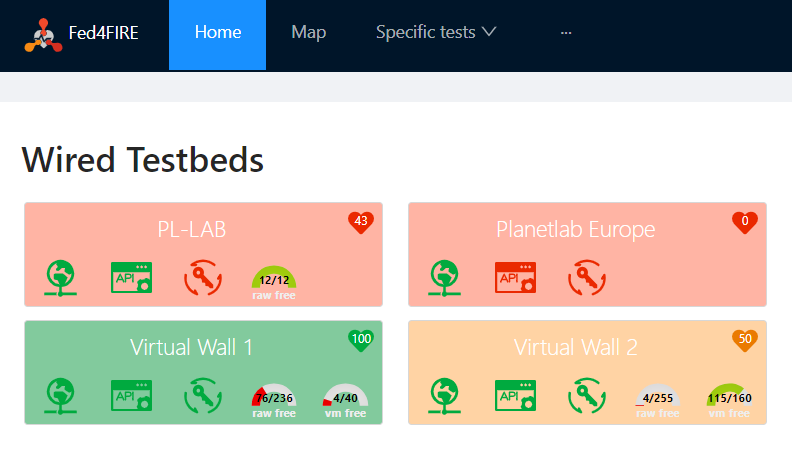 Fed4FIRE+ Experimenters Forum¶
Support on Fed4FIRE is done through the Google group fed4fire-experimenters.
On the front page of that group, we organize the most interesting threads in a couple of categories for easy access. There is also a search engine to search through all posts.
You can freely browse the threads.
Subscribers of the list are experimenters, testbed operators, developers, …
Post a question¶
For posting a question, you can send an email to fed4fire-experimenters@googlegroups.com or post them through the web interface (this latter only works if you are joined with a google account). Posts of non-members need approval from an administrator. You can subscribe to the group (see below), which makes that you receive other posts too and that your emails get through without administration approval.
Please use a subject for the topic that summarises your question well. You will get faster response and it will be easier for other people to search the forum.
Subscribe¶
For subscribing, you can use a Google account and click Apply to join group when you are logged in with your google account. Or you can send an email to fed4fire-experimenters+subscribe@googlegroups.com which works also if you don't have a google account. Or you surf to http://groups.google.com/group/fed4fire-experimenters/subscribe and fill in your email address.
Your subscription request has to be approved by a Fed4FIRE administrator, so it can take some time.
After you have been subscribed, you can change your Display name and your email delivery options (e.g. one summary a day). This works only for people with a google account. People with a non-google account can email helpdesk@fed4fire.eu to get their email settings adapted by the list administrators if needed.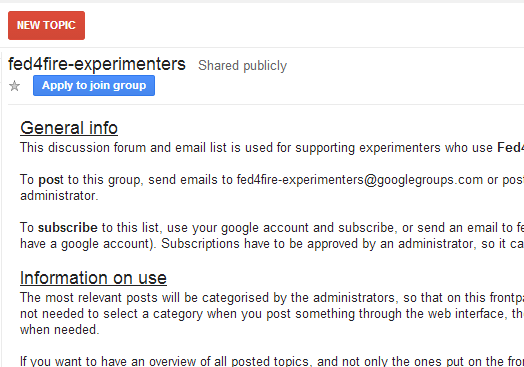 Workflow of support¶
The fed4fire-experimenters google group is the primary support channel, where everyone can submit questions and answers. If a bug or a particular problem at a specific testbed or tool is identified, the corresponding owner will be contacted. The follow up will also be posted to the google group, so experimenters get the needed follow up information.
jFed Feedback / Bugreport¶
When encountering a problem or an unexpected outcome while using jFed, you can use the Feedback/Bugreport-button to get assistance. This will launch a wizard with some questions, and allows you to describe the problem.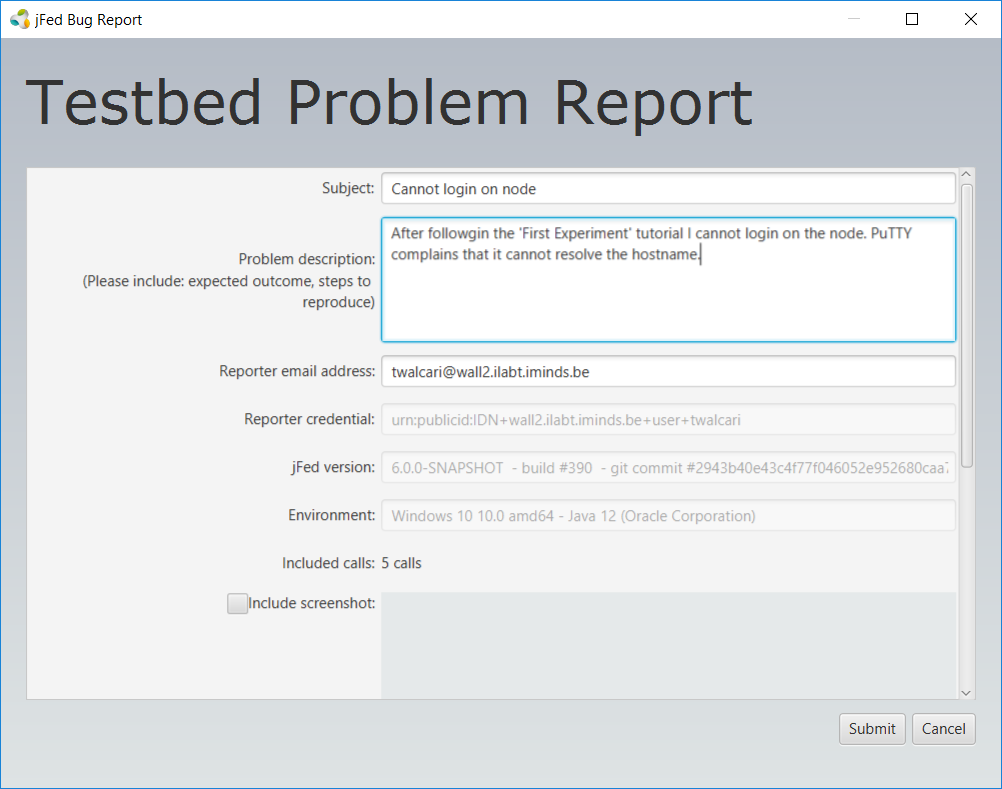 Your input will then be sent to the jFed support team, together with a detailed log of all the AM API-calls that have been performed by jFed. This allows the team to do a thorough analysis of any error you encountered, which allows for a quick and detailed response.